Hemlock Conservation Areas
Key stands of Hemlocks on public land (national forests, state parks, recreation areas, etc.) are being treated with carefully managed programs of chemical and/or biological controls. The treatment plan adopted by the U.S. Forest Service (shown in the map and chart below) is officially called 'Alternative 4, Modified Proposed Action'. This alternative uses releases of predator beetles that eat Hemlock woolly adelgids to establish long-term population control and Imidacloprid treatment to maintain genetic reserves of Hemlocks in 144 USFS-designated Hemlock Conservation Areas covering 19,710 acres. Here is information from the Environmental Assessment 2005: Conservation of the Eastern Hemlock by Suppression of Hemlock Woolly Adelgid Infestations in the Chattahoochee-Oconee National Forests performed by the U. S. Forest Service.
"Under this plan, first priority areas are: (1) the genetic conservation network; (2) habitat for PETS and locally rare species; and (3) foreground area along the Appalachian Trail within the mapped treatment area at Three Forks on the Toccoa Ranger District." PETS is an acronym for Proposed, Endangered, and Threatened Species under the Endangered Species Act of 1973 and also includes species on the Regional Forester's Sensitive species list.
"Identification of PETS and locally rare species habitat or AT foreground as first priority does not automatically mean that the conservation design will be altered in those situations to treat more or different area than described in the alternative description. However, real-time, site-specific information in these situations will be considered under the new information or changed conditions procedure for NEPA (National Environmental Policy Act of 1969)implementation."
"Remaining areas are identified as second level priorities. These are of some degree of importance but are not necessary to a genetic conservation design nor needed as habitat for species of special concern: (1) scenic viewsheds from public viewpoints, (2) potential old growth, (3) dispersed recreation areas, and (4) private land viewsheds."
Click here for the full text of the Environmental Assessment (August 2005) on which the treatment plan in Georgia is based and the Decision Notice (August 2005) explaining the rationale for selecting Alternative 4 as the preferred treatment method. Note that an updated Environmental Assessment (August 2010) has been published for the Pisgah National Forest and the Nantahala National Forest. An Implementation and Status of Biological Control of the Hemlock Woolly Adelgid was published in December 2011.
The maps below show the original Hemlock Conservation Areas in Georgia being (or to be) treated, and the chart that follows indicates the original name, treatment method(s), and number of acres for each. You may click on each map for a larger image. NEWS: Click here for a new HCA map and list of HCAs prepared in March 2020 by Gregg Slezak, USFS Zoned District Silvliculturalist for Blue Ridge & Chattooga River Districts.
Map - Treatment Methods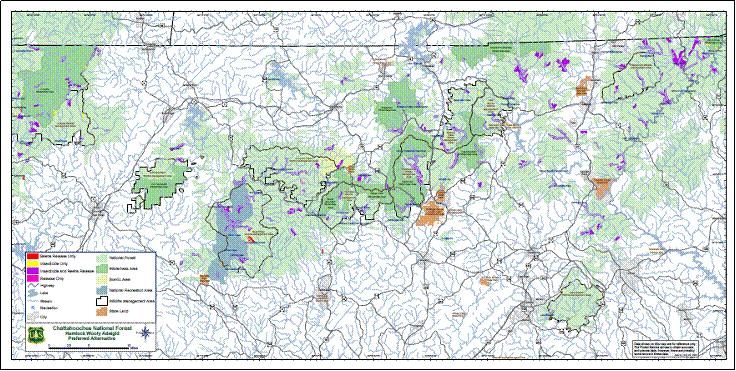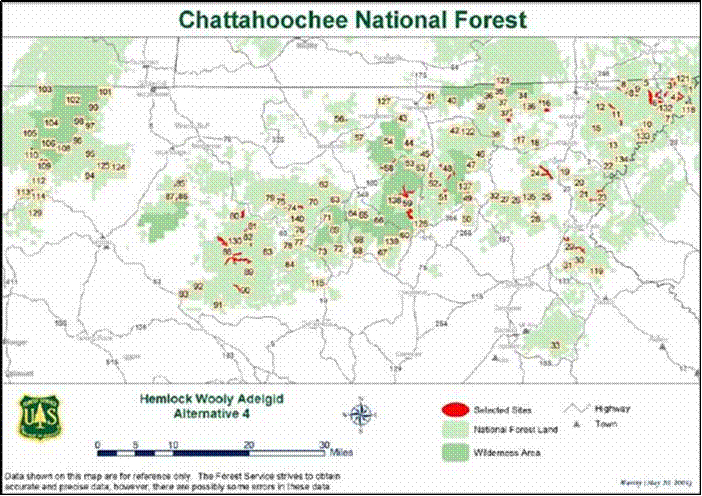 Details - Treatment Areas & Methods
Note: In the chart below, Forest Types are 4 = white pine - hemlock, 5 = hemlock, 8 = hemlock - hardwood, and 41 = cove hardwood - white pine - hemlock. As we receive additional names for the various HCAs, we'll add them to this chart.
No.

District

Birth Year

Forest Type

Treatment

Acres

Name

1

Tallulah

07

41

Insecticide only

18

Burrells Ford 1

2

Tallulah

00

4

Insecticide only

7

Burrells Ford 2

3

Tallulah

20

41

Insecticide and Beetle Release

331

Cedar Cliff

4

Tallulah

1890

41

Insecticide and Beetle Release

227

Hicks/Ridley/Reed

5

Tallulah

0

0

Insecticide and Beetle Release

97

Clear Creek

6

Tallulah

1923

41

Insecticide and Beetle Release

1291

Reed Mill Creek

7

Tallulah

1895

4

Insecticide and Beetle Release

62

Mose Branch

8

Tallulah

1980

41

Insecticide and Beetle Release

544

Holcomb Creek

9

Tallulah

1920

41

Insecticide and Beetle Release

121

Billingsley Creek

10

Tallulah

1942

41

Insecticide and Beetle Release

42

Goldmine Branch

11

Tallulah

0

0

Insecticide and Beetle Release

300

Walnut Fort

12

Tallulah

0

0

Insecticide and Beetle Release

197

Ramey Creek

13

Tallulah

1920

41

Insecticide and Beetle Release

46

Pool Creek

14

Tallulah

1922

41

Insecticide only

19

Darnell Creek

15

Tallulah

1910

41

Insecticide and Beetle Release

79

Finney Creek

16

Tallulah

1936

41

Insecticide and Beetle Release

596

Keener Creek

17

Tallulah

1877

8

Insecticide only

12

Racepath

18

Tallulah

1928

41

Insecticide and Beetle Release

198

Timpson Creek

19

Tallulah

1900

41

Insecticide and Beetle Release

99

Stroud Mt.

20

Tallulah

1920

41

Insecticide and Beetle Release

48

Upper Cliff Creek

21

Tallulah

0

0

Insecticide only

4

Cliff Creek

22

Tallulah

1890

41

Insecticide and Beetle Release

47

Muscadine

23

Tallulah

1900

41

Insecticide and Beetle Release

397

Cliff Creek

24

Tallulah

1900

41

Insecticide and Beetle Release

499

Stonewall

25

Tallulah

1908

41

Insecticide only

22

Scott Creek

26

Tallulah

1900

41

Insecticide and Beetle Release

50

Slick Shoals

27

Tallulah

1928

41

Insecticide and Beetle Release

131

Crow Creek

28

Tallulah

1925

4

Insecticide and Beetle Release

105

Falls Branch

29

Chattooga

1897

41

Insecticide and Beetle Release

290

Panther Creek

30

Chattooga

1870

41

Insecticide and Beetle Release

95

Weaver Creek

31

Chattooga

1880

41

Insecticide and Beetle Release

218

Davidson Creek

32

Chattooga

1885

8

Insecticide only

12

Raper Creek

33

Chattooga

1894

41

Insecticide only

23

Broad River

34

Tallulah

1890

41

Insecticide and Beetle Release

232

Coleman River

35

Tallulah

1951

41

Insecticide only

18

Shock Branch

36

Tallulah

1928

41

Insecticide only

17

Charlies Creek

37

Tallulah

1925

41

Insecticide and Beetle Release

806

Tallulah River

38

Tallulah

1933

41

Insecticide and Beetle Release

89

Nicholson Branch

39

Brasstown

0

0

Insecticide only

99

Big John Creek

40

Brasstown

1920

41

Insecticide and Beetle Release

4242

Scataway

41

Brasstown

1937

41

Insecticide and Beetle

Release

7171

Bell Mtn

42

Brasstown

1974

41

Insecticide and Beetle

Release

5858

Swallow Creek

43

Brasstown

1950

41

Insecticide and Beetle

Release

3737

Hog Creek

44

Brasstown

0

0

Insecticide and Beetle

Release

4444

Fodder Creek

45

Brasstown

0

0

Insecticide and Beetle

Release

4747

Spaniard Branch

46

Tallulah

1920

41

Insecticide and Beetle Release

174

Hemlock Falls

47

Tallulah

1910

41

Insecticide and Beetle Release

87

Jessie Branch

48

Brasstown

1945

41

Insecticide and Beetle Release

342

Corbin

49

Chattooga

1915

41

Insecticide and Beetle Release

75

Hickory Nut Mt.

50

Chattooga

1885

41

Insecticide and Beetle Release

68

Nester Creek

51

Chattooga

1899

41

Insecticide and Beetle Release

240

York Creek

52

Brasstown

1940

41

Insecticide and Beetle Release

303

High Shoals

53

Brasstown

0

0

Beetle Release Only

173

Soapstone

54

Brasstown

0

0

Insecticide and Beetle Release

45

Big Bald Cove

56

Brasstown

1921

41

Insecticide and Beetle Release

143

Ivy log

57

Brasstown

0

Insecticide only

12

Beasley

58

Brasstown

0

0

Insecticide and Beetle Release

319

Bob Creek

59

Chattooga

1895

41

Insecticide and Beetle Release

850

Chattahoochee River

60

Chattooga

0

0

Insecticide and Beetle Release

76

Dukes Creek Falls

62

Brasstown

1910

41

Insecticide and Beetle Release

171

Bowers Cove

63

Brasstown

0

0

Insecticide and Beetle Release

168

Wolf Creek

64

Brasstown

0

0

Insecticide and Beetle Release

275

Helton Creek

65

Brasstown

1910

41

Insecticide and Beetle Release

46

Alec Cove

66

Brasstown

0

0

Insecticide and Beetle Release

52

Lordamercy Cove

67

Chattooga

1940

41

Insecticide only

16

68

Chattooga

1910

41

Insecticide and Beetle Release

120

Boggs Creek

69

Brasstown

0

0

Insecticide and Beetle Release

88

Blood Mtn Cove

70

Brasstown

0

0

Insecticide and Beetle Release

82

Tigue Branch

71

Brasstown

0

0

Insecticide and Beetle Release

82

Slaughter Creek

72

Brasstown

0

0

Insecticide and Beetle Release

33

Waters Creek

73

Brasstown

0

0

Insecticide and Beetle Release

43

Dockery Lake

74

Brasstown

0

0

Insecticide and Beetle Release

259

Coopers Creek

75

Toccoa

1925

41

Insecticide and Beetle Release

154

Mulky Creek

76

Brasstown

0

0

Insecticide and Beetle Release

43

Flowers Cove

77

Brasstown

0

0

Insecticide and Beetle Release

119

Canada Creek -upper

78

Brasstown

0

0

Insecticide and Beetle Release

257

Canada Creek- lower

79

Toccoa

0

0

Insecticide and Beetle Release

88

Clements Branch

80

Toccoa

1905

4

Insecticide and Beetle Release

259

Toccoa River

81

Toccoa

0

0

Insecticide and Beetle Release

127

Little Rock Creek

82

Toccoa

0

0

Insecticide and Beetle Release

157

Rock Creek

83

Brasstown

1910

8

Insecticide and Beetle Release

66

Cochran Creek

84

Brasstown

0

0

Insecticide and Beetle Release

132

Blackwell Creek

85

Toccoa

0

0

Insecticide and Beetle Release

198

Flat Creek

86

Toccoa

1920

8

Insecticide and Beetle Release

110

Stanley Creek

87

Toccoa

0

0

Insecticide only

25

Cold Mountain

88

Toccoa

0

0

Insecticide and Beetle Release

1104

Noontootla

89

Toccoa

1900

41

Insecticide and Beetle Release

112

Montgomery Creek

90

Toccoa

0

0

Insecticide and Beetle Release

228

Lance Creek

91

Toccoa

0

0

Insecticide and Beetle Release

71

Cochrans Falls

92

Toccoa

1910

41

Insecticide and Beetle Release

84

Anderson Creek L frk

93

Toccoa

0

0

Insecticide and Beetle Release

64

Anderson Creek R frk

94

Cohutta

1981

41

Insecticide and Beetle Release

34

Gibson Creek

95

Cohutta

1900

41

Insecticide only

25

S. Fork Jacks River

96

Cohutta

1957

41

Insecticide and Beetle Release

155

W. Fork Jacks River

97

Cohutta

1940

5

Insecticide and Beetle Release

38

Mill Branch

98

Cohutta

1902

4

Insecticide and Beetle Release

178

Upper Jacks

99

Cohutta

1939

41

Insecticide only

15

Tumbling Creek South

100

Cohutta

1915

8

Insecticide and Beetle Release

59

Tumbling Creek Central

101

Cohutta

1907

8

Insecticide and Beetle Release

76

Tumbling Creek North

102

Cohutta

0

0

Insecticide and Beetle Release

128

Penitentiary Branch

103

Cohutta

0

0

Beetle release only

135

Lower Jacks

104

Cohutta

0

0

Insecticide and Beetle Release

55

Thomas Creek

105

Cohutta

1920

41

Insecticide and Beetle Release

37

Upper Sumac Creek

106

Cohutta

0

0

Insecticide and Beetle Release

75

Poplar Creek

107

Cohutta

1910

41

Insecticide only

18

Poplar Springs Gap

108

Cohutta

0

0

Insecticide only

24

Sam Jones Gap

109

Cohutta

1913

41

Insecticide and Beetle Release

258

Emery Creek

110

Cohutta

1918

41

Insecticide and Beetle Release

125

Lake Conasauga

111

Cohutta

1886

5

Insecticide only

12

Songbird

112

Cohutta

1914

4

Insecticide and Beetle Release

52

Holly Creek

113

Cohutta

1938

41

Insecticide and Beetle Release

69

Shanty Creek

114

Cohutta

1934

41

Insecticide and Beetle Release

52

Harkins Creek

115

Brasstown

0

0

Beetle release only

38

Yahoola Creek

116

Cohutta

0

0

Insecticide and Beetle Release

34

Thomas Creek

117

Tallulah

0

0

Insecticide only

17

Ellicott Rock

118

Tallulah

0

0

Insecticide and Beetle Release

274

Rock Gorge

119

Chattooga

0

0

Insecticide and Beetle Release

78

Cedar Creek

121

Tallulah

0

0

Insecticide and Beetle Release

38

Ellicott Tock

122

Brasstown

0

0

Insecticide only

21

Falls Branch

123

Tallulah

0

0

Insecticide only

9

Tate City

124

Toccoa

0

0

Insecticide and Beetle Release

28

Cashes Valley East

125

Toccoa

0

0

Insecticide and Beetle Release

34

Cashes Valley West

126

Chattooga

0

0

Beetle release only

43

127

Brasstown

0

0

Insecticide only

10

Mining Gap

128

Cohutta

0

0

Beetle release only

16

Upper Mill Creek

129

Cohutta

0

0

Beetle release only

41

Tatum Lead

130

Toccoa

0

0

Insecticide and Beetle Release

120

Mill Creek

131

Tallulah

0

0

Insecticide only

10

Racepath #2

132

Tallulah

0

0

Insecticide and Beetle Release

154

Laurel Creek

133

Tallulah

0

0

Insecticide and Beetle Release

547

Warwoman Ford

134

Tallulah

0

0

Insecticide and Beetle Release

181

Lick Log Creek

135

Tallulah

0

0

Insecticide and Beetle Release

61

Seals Creek

136

Tallulah

0

0

Insecticide and Beetle Release

95

Persimmon Creek

137

Chattooga

0

0

Insecticide and Beetle Release

163

Wolfpen Branch

138

Chattooga

0

0

Insecticide and Beetle Release

166

Jasus Creek

139

Chattooga

0

0

Insecticide and Beetle Release

201

Winkley Branch

140

Brasstown

0

Beetle release only

71

Mart Helton

141a

Cohutta

1920

8

Insecticide and Beetle Release

23

Conasauga Creek

141b

Cohutta

1930

41

Insecticide and Beetle Release

8

Conasauga Creek

142

Cohutta

0

0

Insecticide and Beetle Release

66

Chestnut Creek

143

Cohutta

0

0

Insecticide and Beetle Release

40

Betty Gap

144

Tallulah

0

0

Insecticide and Beetle Release

69

Pounding Mill Creek